Pork, its whats for dinner
Second weekly Supper Sisters recipe coming at you! We have featured pulled pork sandwiches before on the
blog
, that approach was a wet braise and made in a crock pot. I don't own a crock pot so I always look for oven roasted recipes, or i adapt a crock pot recipe to the oven. This weeks recipe for pulled pork sandwiches is from a blog
I've
recently discover while looking for a dry rub style pulled pork,
how sweet it is
. She loves pork and salt and vinegar chips, so I say her and I would be fast friends.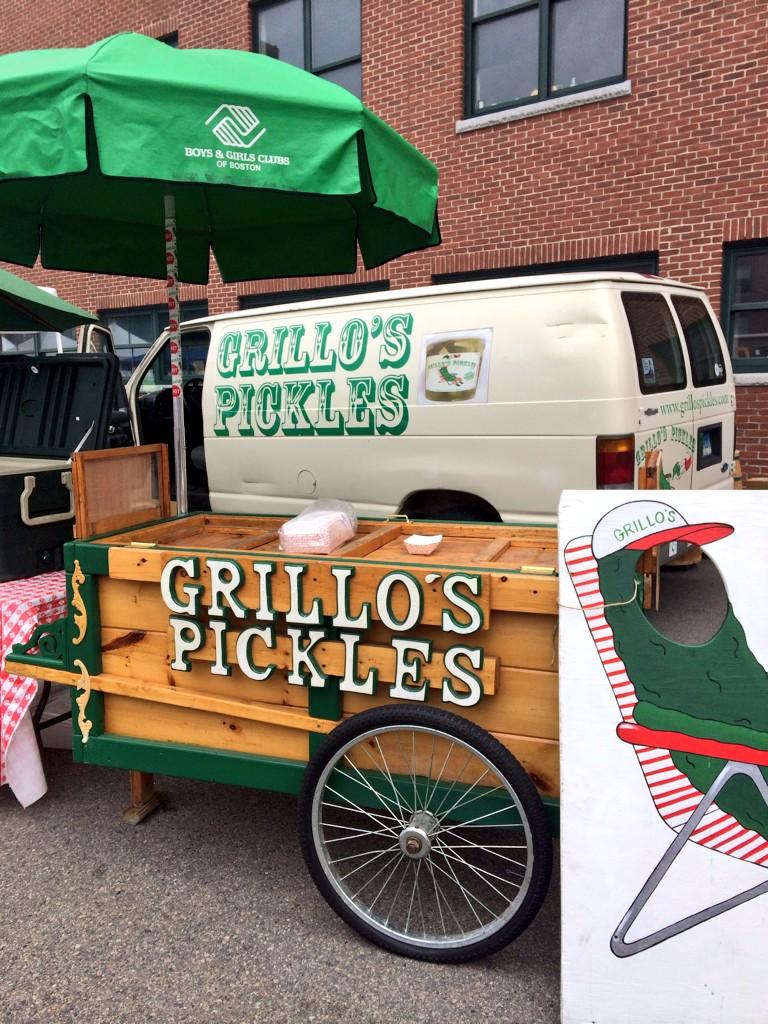 SOWA Pickle Truck
To serve these sandwiches, I always go with potato rolls and some delicious pickles. I prefer
grillo's pickles
, a Boston local company that sells 2 spears for $1 at SOWA market. Jason eats his bun-less, if you are avoiding carbs this week. Also, I roast mine cover on for a juicier meat. The
initial
sear is key for an even juicier meat; this sear locks in all the moisture. The pork is going to be roasting slow and low for 6+ hours so go for a more fatty cut, the fat meas flavor and moisture. Are you sensing a theme here? Moisture is important!
Hope you enjoy this weeks spin on pulled pork. Bring to your summer BBQ or make a big pot on Sunday to last you through a part of the week's lunches!
Picture courtesy
of How Sweet It Is
taken from How Sweet It Is
5 to 6 pounds pork shoulder, fatty cut
preferably
bone in
1/4 cup of packed brown sugar
1 1/2 teaspoons smoked paprika
1 tablespoon garlic powder
1/2 teaspoon chili powder
1/2 teaspoon onion powder
1 1/2 tablespoons canola oil
1 beer (dark preferably Guinness)
Preheat oven to 325 degrees. Make sure pork is at room temperature prior to cooking. Pat completely dry before seasoning.
In bowl mix, brown sugar, paprika, garlic powder, salt, pepper, chili, and onion powders. Take mixture and cover all sides of the pork.
Heat large dutch oven over high heat and add oil. Add pork and sear on all sides, roughly 2-3 minutes per side. (First sear is key!). Pour in beer and place into oven with cover on. Roast for 6 to 8 hours or until pork is easily pulled apart with fork. Remove from the oven and pull completely apart with fork, be mindful with bones if you are using a bone-in shoulder. Coat pork with one cup of sauce and place back in the oven for another 30 minutes.
Serve your favorite way! (Mine- potato rolls and pickles!)