Ethel, the swimmer
I am giving myself this Sunday off from cooking and I think you should too. That is unless you are having a BBQ because that is fun cooking. This upcoming weekend, Jason and I have a very fun weekend ahead of us, including a day trip up to Ogunquit, swimming with Ethel in Hingham, and a great dinner at Oleana. So instead of a large meal this Sunday I want to provide you with a great recipe to bring to your upcoming BBQ, the crowd pleasing fruit tart!
I have discussed a grown up fruit tart before using a pretzel crust with mascarpone cheese and fresh berries, but this has been my go-to dessert for bringing to BBQ's. I was in need a revamp. I wanted to keep the same idea, savoring the fresh summer berries when I can. So when I was browsing around twitter last week I found a new spin which using yogurts and pecans, which means it can be doubled as breakfast! Check out this recipe via Food 52, enjoy while fresh berries are still available!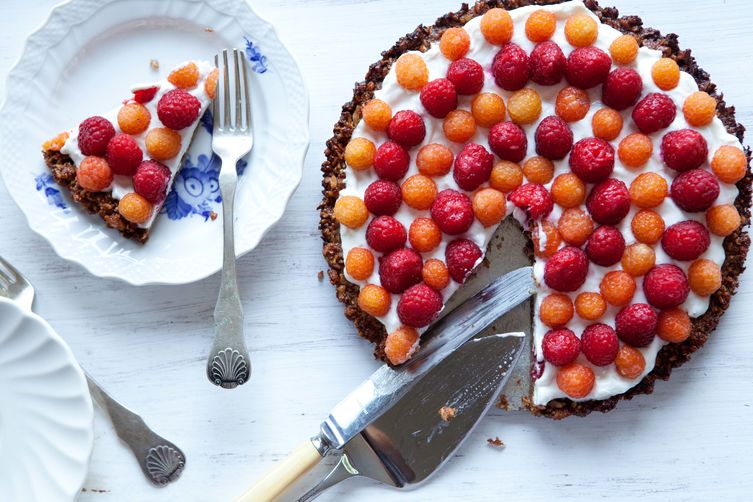 Photo courtesy of Food 52
Fresh Berry Tart with Pecan Crush
recipe taken from Food 52
Ingredients
1 1/2 cup raw pecans
1 to 2 tablespoons honey
2 tablespoons of cold unsalted butter, cut into chunks
1 cup of Greek yogurt (I use Fage, full fat or 2% are ideal)
2 pints of fresh berries such as raspberries, strawberries, or blueberries (my usual mix)
Preheat oven to 400

°F. Place pecans into a food processor and pulse until it takes on a crumbly

meal consistency.
Transfer pecans to a bowl and blend in honey either using a rubber spatula or with hands. Add chunks of butter to mixture and blend together with fingers. Chunks are okay!
Press the mixture into a 9-inch round tart pan, or a pie dish if you don't have one. Place into oven for about 12 minutes. Fully cool crust.
Once crust is completely cooled, spread in 1 cup of greek yogurt. Add berries on top, in a fancy pattern if you like! Enjoy!!