On Friday, my adopted 21 year old daughter (technically youngest sister Katie) moved in with us for the summer. Well, for two weeks, but we will call it the summer. She is interning at a company up in the Boston area for the summer and is living in Boston University housing once the semester starts. I love Boston in the summer and I think living here during this time will brainwash anyone to move here. Sure, the winters are awful, maybe even downright horrendous, but the first few days of sunshine make me forget all of that. I hope Katie falls in love with Boston as much as I did the first time I was here in the summer. It really is magical...
So this past weekend started our weekly trips to the SOWA market. It has grown by leaps and bounds this year. What used to take place in one parking lot with a few vegetable stalls and some homemade soup carts has multiplied into include three different areas, the food truck court, farmers market and vintage market. This weekend we went to the food truck court where there were over 10 different food trucks to choose from, brand new ones too. I was in street meat heaven!
After the food truck court, we went over to the farmers market to see what vegetables were available for this time of year. Turns out - not many. However, there was a cage of live chickens that Ethel got a kick out of. This farmers market was where I was first introduced to beets and now I can't get enough. Last night, I introduced Katie to beets and now she is obsessed! They look scary but are oh so good.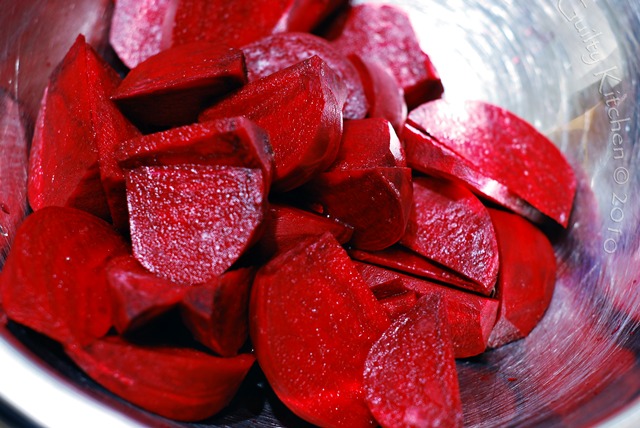 Beet Salad
3 large beets
1 log of goat cheese
Toasted hazelnuts
Olive Oil
Red Wine Vinegar
Salt and Pepper
Preheat oven to 350F. Cut off the top and end of the beets. Wrap in aluminum foil with a dash of oil and salt and pepper. Place on a cookie sheet and roast for about 1 hr or until tender.
Remove from the oven and remove from the foil. Peel off skin and chop into bite size pieces (be careful beet juice stains clothing but it will wash off you fingers). Toss with olive oil, red wine vinegar, salt pepper. Add goat cheese and toasted hazelnuts.
Enjoy!!
Jen