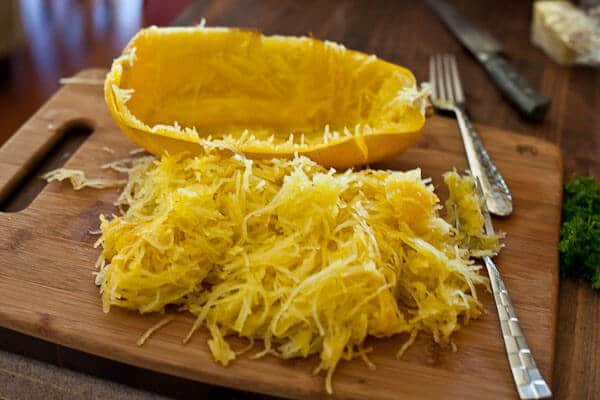 Believe it or not there is a healthy alternative to spaghetti with a readable ingredient list and containing not one wheat ingredient. And even more unbelievable is that it is a vegetable of all things containing about 41 (41!!!) calories in one cup prepared. I am talking about the aptly named spaghetti squash. In my pre-wedding days when I was subsisting on vegetables and adrenaline, this was my go to meal. Now that the white dress panic has subsided, I still incorporate this healthy meal into the rotation about once a week.
I am about to get real here. While I love our weekly Sunday meals, they tend to be exactly what we're meant to be... a big sit down dinner with sides and butter and deliciousness. Great thing for a Sunday indulgence. Not so much as an everyday thing. One thing I was not given in this world (although I have no cause for complaint) was the naturally thin gene. So it is with honesty and candor that I admit I have to count calories during the week in addition to logging gym time to stay fit and thin. Enter my best friend spaghetti squash. Before I am shunned with hisses and boos, I will admit it is not an exact replica of its starchy equivalent. But does it satisfy those pasta cravings while not reeking havoc on my waistline? Absolutely.
The possibilities are really endless for how you can dress up spaghetti squash. Sometimes I go with the traditional tomato based pasta sauce, some Parmesan cheese and I am set. Other times when I am feeling fancy I grill up some veggies and toss them in with the squash. I've included one of my favorite variations below for you to try. And if this turns out not to be your thing do not fear! Next week I will introduce you to the nutty, buttery acorn squash.
Happy Weekday Healthy Eating!
Joanne
Spaghetti Squash with Homemade Pesto & Pine Nuts
Basic Pesto Recipe from Epicurious
4 cups fresh basil leaves (from about 3 large bunches)

1/2 cup olive oil

1/3 cup pine nuts

2 garlic cloves

1/2 cup freshly grated Parmesan cheese

1 teaspoon coarse kosher salt

Medium sized spaghetti squash