One of the best things about summer is all of the outdoor time. Whether you're spending it being active or simply eating outdoors, there is nothing like being in a pair of shorts feeling the sun on your face. This Sunday, David and I spent time with his family at a family barbeque (barbecue?) celebrating Sara's (my sister-in-law) and Michael's (my brother-in-law) birthdays. The weather was perfect for outdoor eating so we took advantage and dined al fresco. With the new addition of our 2 month old niece Mackenzie, I'd say this family event was a perfect ending to the weekend.
Introducing Mackenzie!
Not only was the company great, but the food was delicious too. One dish I wanted to highlight was the German potato salad brought by Lisa, my other sister-in-law. David quickly staked his claim on the leftovers and demanded I get the recipe from Lisa. Well, she was kind enough to share and I thought I would pay it forward by showcasing it here. This is definitely something that can be made ahead of time and brought to share. But good luck deciding who gets to take home the leftovers (if there are any!)
Authentic German Potato Salad
serves 8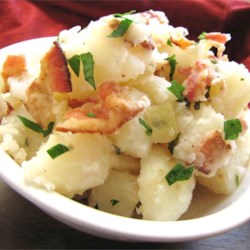 Photo Credit - AllRecipes.com
6 cups

diced peeled potatoes

8 slices

of

bacon

2 small

onions, diced

1/2 cup

white vinegar

1/4 cup

water

1/4 cup and 2 tablespoons

white sugar

2 teaspoons

salt

1/4 teaspoon

ground black pepper

2 tablespoons

chopped fresh parsley
Place the potatoes into a pot, and fill with enough water to cover. Bring to a boil, and cook for about 10 minutes, or until easily pierced with a fork. Drain, and set aside to cool.

Place the bacon in a large deep skillet over medium-high heat. Fry until browned and crisp, turning as needed. Remove from the pan and set aside.

Add onion to the bacon grease, and cook over medium heat until browned. Add the vinegar, water, sugar, salt and pepper to the pan. Bring to a boil, then add the potatoes and parsley. Crumble in half of the bacon. Heat through, then transfer to a serving dish. Crumble the remaining bacon over the top, and serve warm.
P.S. Jen is back from Spain on Thursday to regale us with her adventures and maybe even a meal or two!