Embrace the Buttah
I'm pretty annoyed at how hot it is outside today. This past weekend teased me with chilly nights and brisk mornings. I was all ready to break out the sweaters, get my hot chocolate kettle out and sit in on chilly fall nights watching whatever is on the boob tube. Then today comes around with its ninety degree temperatures and ruins all my fall weather dreams. So, despite the horrendous temperatures today, I want to feature a recipe that practically screams fall. For this recipe, as said in the title, is all about the butter. Don't be alarmed by the amount because without it you will be dealing with a crumbly mess in your lap instead of a delicious smores delight.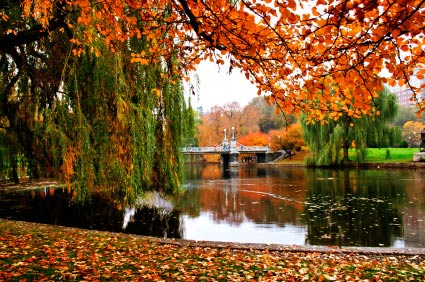 Can't wait for fall in Boston!
Smores Cups
The campfire treat sans campfire
1 stick of butter melted
7 rectangles of graham crackers
12 jumbo marshmallows
12 Hershey chocolate nuggets
cupcake liners
1/2 cup confectioners sugar
Preheat oven to 350 F
Using a food processor, grind graham crackers until they are a fine powder. Add confectioner sugar and pulse until combined. Add butter and pulse until powder starts to clump. Add more butter until you can compact the powder to almost a dough.
Line a cupcake tin with cupcake liners. Pat down cracker mixture. Bake for 10 minutes. Place one Hershey's nugget on top of each. Place back in oven for another 4 minutes. Remove from the oven and smear around chocolate to cover the entire top. Place a jumbo marshmallow on top. Return to oven for 3 minutes. Turn on broiler to high and keep smores in oven until marshmallows are golden brown.
Enjoy!
Jen
"You want a smore?"
"How can I have some more if I haven't had any?"
"You're killing me smalls...."